Yes Absolutely Free.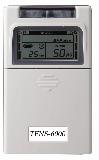 One of our most reliable units ever.
Dual channel with timer.
Adjustable Rates -
Constant Current.
Pocket Size -
Easy Operation with 9V battery.
Try our Digital 6000 tens unit to determine if Tens will help you with your pain.
Your Complete Satisfaction is Guaranteed. We do require a credit card on file to insure the tens machine is returned and a security deposit.
For insurance to pay for tens we must have a prescription from a licensed M.D. in the U.S. We require a security deposit or permission to charge a credit card if the unit is not returned.
Enter your name and email below for all the details. Or call us at 800-937-3993.